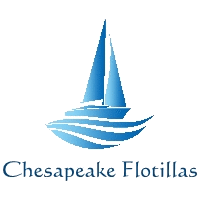 New Skills for New Owners
Bigger and Better
Moving up to a bigger boat can be a daunting task. The systems are larger and more complex. The boat handles differently. The sailing skills required to crew a bigger boat might be new skills for many sailors and owners. Or perhaps you just want to feel confident enough to charter a larger yacht than you have in the past or maybe just sail with a smaller crew. Chesapeake Flotillas can put one or two skilled crew aboard your private boat or chartered yacht to help familiarize you and your crew with the larger vessel.
Kick the Tires: We will begin with a full and detailed boat checkout using the Chesapeake Flotillas Check-In/Check-Out form. (For an additional cost, CFP can work with you to create a customized check list specifically for your private boat. Call us for details.) We will address hull, rigging, plumbing, electrical, and mechanical systems. We will identify location and purpose of all thru-hulls. You will find and use the emergency tiller. We will discuss common problems with (large) roller furling systems. Also covered will be common system failures or anomalies and how to avoid them.
Test Drive: Then we will get underway to help you improve your close-quarters maneuvering, sailing skills, and general seamanship. We will reinforce the concept of dock lines and their uses. You will distinguish between prop walk and prop wash as well as how and when to use each. You will work into and out of marina alley ways. Understand how to spin the boat in its own length. Review what to do in case of the more common emergencies (fouled prop, engine failure, etc.).
Kill the engine!: Let's hoist the sails and work through all points of sail, noting optimum sail trim at each point. Reefing and heaving-to should be in every sailors "toolkit". We at Chesapeake Flotillas believe that the single most important skill a sailor needs is knowing how to execute a Man Overboard recovery. Learn and practice both the quickstop and the figure-eight. (No…you do NOT turn on your engine!)
Anything else? If there is time left over and you have other topics you wish to cover, we will be happy to accommodate you. Cruise planning? Destination suggestions? After all, THAT is exactly what Chesapeake Flotillas provides!