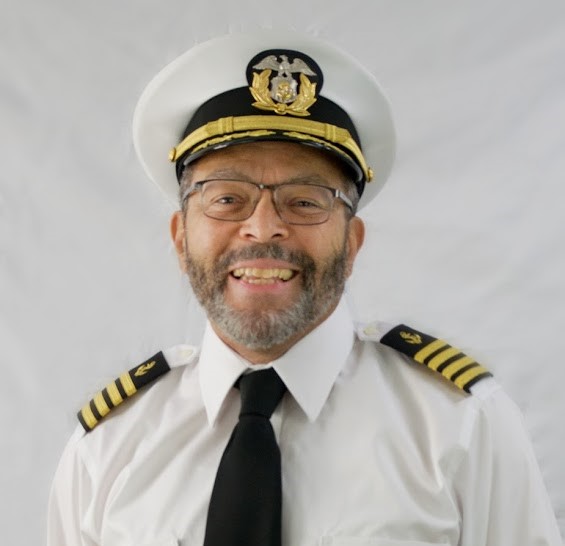 Rob has worked as an engineer in the telecommunications and defense industries. He has been a Lead Engineer and a Manager. Now he works for Miku, Inc. in Woodbridge, NJ as the Director of Embedded Software. Rob has a BS in Electrical Engineering and Applied Physics from Case Western Reserve University and an MS in Solid State Physics from Stevens Institute of Technology .
Rob has been in love with sailing since his first experiences with the sport back in the mid 70's. He has been sailing every year now since 1989. In 1993, Rob joined the Sailing Club. He became a club-qualified skipper 2 years later. He held several posts with the club including Commodore and Training Coordinator. Rob loves sailing the Chesapeake Bay and will passionately share that love with anyone who will listen. Other memorable experiences include skippering in two Lucent Regattas in the Netherlands (1999 and 2000) and skippering a 45-foot tugboat for the National Park Service while in high school.
Rob holds a 200-Ton Master's license with Auxiliary Sail and Assistance Towing endorsements. He also is certified by the American Sailing Association to teach Basic Keelboat Sailing, Basic Coastal Cruising, and Bareboat Chartering. Rob has been a recurring speaker on several topics at Cruisers' University. He has participated in and is available for yacht deliveries along the Atlantic seaboard from Boston to the the Carolinas. Rob has also planned and executed flotilla cruises all over the Chesapeake Bay, Europe, and the Caribbean. Rob is the owner and operator of the 41-foot sloop Bay Poet based out of Rock Hall, MD. He was recently added as a Charter Captain by Dream Yacht Charters. Rob worked two seasons as a Relief Captain aboard the 115-foot Schooner A.J. Meerwald, the state tallship of New Jersey.
And...in case you were curious, Capt. Rob is the 12th one-half cousin, three times removed, of Sir Francis Chichester.
Here is what Rob's clients have said about him:
| | |
| --- | --- |
| John F. | I enjoyed the (Italy) trip more than any sailing trip I have ever been on thanks to Theresa and Rob. The location, scenery and FOOD were fantastic. Theresa's breakfasts, lunch and dinner were outstanding; and the meals we had at the local, off the beaten path restaurants were exceptional. They all helped me gain five pounds! |
| Wes W. | What I further wanted to tell you before we left was that you are a person who enhances peoples' lives and I happened to be an incredibly lucky recipient of your wonderful counsel and friendship for 4 days. Thanks again for your knowledge, patience, and kindness! |
| Helene R. | You are a wonderful teacher and an excellent captain and I have been singing your praises. Thanks again for sharing your love of sailing with us aspiring sailors! Thanks you for your enthusiasm, skillful instruction, calm demeanor and sharp sense of humor, Theresa and her Magic Pans and Jane and her sailing insights which all went toward creating a relaxing and fascinating weekend! |
| Ginny C. | You put the wind in my sails from this experience that I can't wait to learn. It truly was an amazing experience for me. I love the water and sailing brought this love even more dear to my heart. You are a gifted instructor and your love for sailing just radiates. Thanks for your patience and answering my million questions! |
| Betty G. | I have sailed with Rob since 2004. There is no one I trust more than Rob. He is a fabulous sailor, instructor and friend. I know you would have a wonderful time. |
| Mary Ann G. | I just spent the weekend on Bay Poet! We so enjoyed your boat.......thanks for adding it to the charter fleet. We had wind pretty steady at 18 knots yesterday and she loved it. |
| Wayne B. | If anyone ever wants to tour/sail the Chesapeake I would highly recommend Capt Rob. A more knowlegeable, skilled, and personable skipper you'll never find. |
When it comes to sailing, Rob believes that the journey IS the destination. He loves planning and executing cruising events for friends and clients. His essays and poems on sailing have been published in the Sailing Club's newsletter and elsewhere. Capt. Rob also has a blog on various sailing topics. Additionally, he is a contributing author for My Boat Life, a digital magazine. His articles are available at this link.
Email Rob here or call him at 908.672.3609.