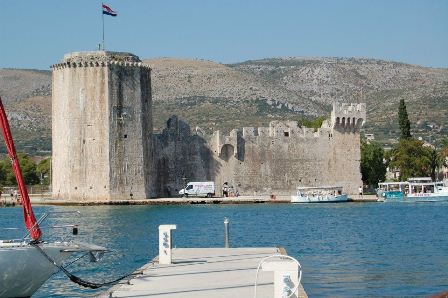 Capt. Rob has skippered boats and led flotillas in foreign and exotic locations. From racing in corporate events in the Netherlands to cruises of discovery in the Adriatic and French West Indies, Rob delights in making landfall in new harbors and standing off the shoals of remote islands. Sometimes it is not hard to imagine what the original explorers first glimpsed. The history, culture, and traditions of our destinations are all features that make these international adventures so exciting and satisfying. Sail with Capt. Rob for a view of a foreign country from the sea. Imagine ancient coasts and thickly forested jungles as they once were. A trip with Capt. Rob can put you in touch with that experience. Explore the past. Relish the present...and dare to dream of the future with Capt. Rob as your guide and navigator.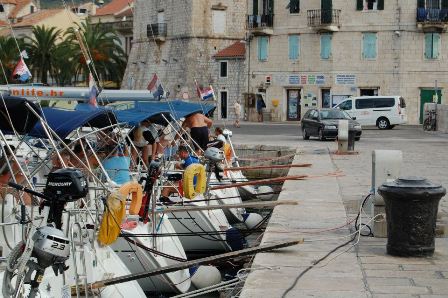 Rob's attention to detail does not end at the gun'l! For all his trips, he researches and prepares in great detail. He will help you identify potential flight routings. He and Chef Theresa study and plan for the local cuisine and provisioning. Chef Theresa, Rob's galley steward and lead crewperson, prefers to provision the boat locally rather than just have the charter company simply stock generic food stuffs aboard. Rob also feels it is important to learn the language enough to at least be polite and respectful to our hosts. Translation guides and online resources are only a part of the information that he delivers to his clients before heading off on our adventures. Other information includes currency exchange, cost estimates, transfer information, and the location of conveniences like laundromat, ATMs, and land accomodations.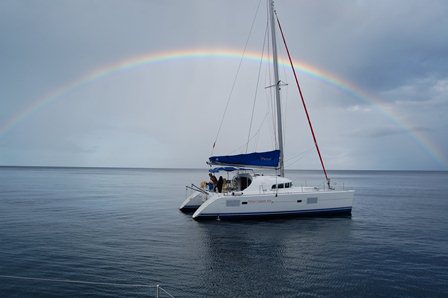 The cost of an overseas adventure with Chesapeake Flotillas is driven primarily by the charter yacht selected and the number of people in the crew. That is, there are fixed costs and per person costs that affect the total cost for each person. These trips are priced at the time the charter yacht is reserved but Capt. Rob will offer an estimated price to assess interest in proceeding with plans for these exceptional voyages. The pricing of the trips is generally established so that guests only have to pay out of pocket for meals ashore, souvenirs, and other personal incidentals. When possible, Chesapeake Flotillas will even arrange group transportaion to the boat!
Capt. Rob typically identifies trips based on comments made by clients on previous trips. If you have an idea or suggestion for an overseas sailing adventure, he would love to hear from you. Given the expense and the elaborate logistics involved in planning these trips, Rob plans his offshore trips up to 2 years in advance! It may sound unreasonable to ask for a commitment so early but there are a lot of logistics involved AND these trips do sell out quickly. This timeframe also helps in that payments for the trips are spread out over a longer time making it easier for participants manage their expenses.
Would you like to expand your cruising grounds? Rob gets good rates for his own trips and he can help you find the best rate if you wish to skipper* your own boat in one of his flotillas or just on your own. What are you waiting for?? Give a call and let him help you plan your overseas charter vacation. Capt. Rob will treat your vacation like his own!
Send Rob an email now to find out what we can do for you. You may also call Chesapeake Flotillas at 908.672.3609.
* Skippers on a Chesapeake Flotillas cruise must meet all minimum qualification as set by the resepective charter company and Chesapeake Flotillas, LLC. Skippers must also sign a Chesapeake Flotillas contract to accept all of the specified responsibilities of the skipper of record including paying specified running expenses during the trip pending reimbursement after the trip concludes. A copy of the contract with Terms and Conditions for Skippers is available on request. Chesapeake Flotilllas reserves the right to decline accepting a request for additional boats in a flotilla for any reason.