I have always been intrigued by Holland. It has been 16 years since I was last there. I am excited about seeing the Low Country as we slowly cruise the inland waterways.
Our itinerary is laid out in the table below. PLEASE make sure you are at the LeBoat charter base in Hindeloopen by 1PM on Saturday, September 14. If you cannot do so, you will have to meet us in Woudsend. Friday, we will return the boats to the charter base in Vinkeveen. Most nights, we will probably be in a marina but we may choose to simply stop along the banks of a canal one or more nights.[1].
The map below shows a high-level view of our proposed route. If you want to see more details, you can view Google maps by clicking here.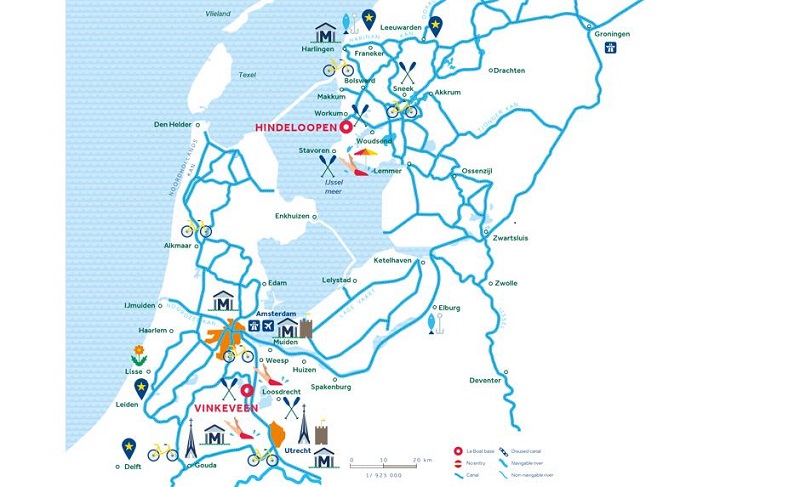 Day
Start
Destination
Distance
Notes
9/14/2019
Hindeloopen
Woudsend
12 NM

Hindeloopen is our starting point...the charter boat base. Get a feel for Hindeloopen's unique character by wandering through the narrow streets and looking for the lovely views, the typical wooden bridges and characteristic facades.

Google Maps Navionics Chart

Woudsend is a convenient stop only about 2 hours from our starting point on Saturday. Marina: JH de Rakken on the right side before the bridge. All amenties.

9/15/2019
Woudsend
Sloten
3 NM
Ossezijl
20 NM
Geithoorn
30 NM
Venice of the Netherlands-- From what I have read, Geithoorn sounds like an excellent overnight stop. It also looks like it has several points of interest.
9/16/2019
Geithoorn
Zwartsluis
7.5 NM

The town berths a lot of recreational boats as well as a heritage fleet of fishing and cargo vessels. The Black water in the waterways is run-off from nearby peat fields.

Google Maps Navionics Chart
9/17/2019
Zwartsluis
Elburg
21NM
Harderwiijk
31 NM
9/18/2019
Harderwijk
Muiden
26 NM

Muiderslot Castle, a well-preserved castle from the Middle Ages, and Muizenfort (Mice Fort), a 19th-century fortification, can be found here.

Google Maps Navionics Chart
9/19/2019
Muiden
Utrecht
20 NM

Moor canal side somewhere near center city. Utrecht has several smaller and larger museums. Many of those are located in the southern part of the old town, the Museumkwartier. Restaurants should be easy unless we want to do dinner aboard that night. I know there are some museums but I have not researched details yet.

Google Maps Navionics Chart
9/20/2019
Utrecht
Vinkeveen
12.5 NM

This is the end of our cruise. Vinkeveen is mainly famous for the Vinkeveense Plassen (Lakes of Vinkeveen), an area of lakes and sand islands east of the village.

Google Maps Navionics Chart
Total distance
Hindeloopen
Vinkeveen
139 NM
After we return our boat, you may well wish to see other parts of the Netherlands and Europe. However you decide to wrap up your vacation, the choice is yours.
Here are maps of the Netherlands.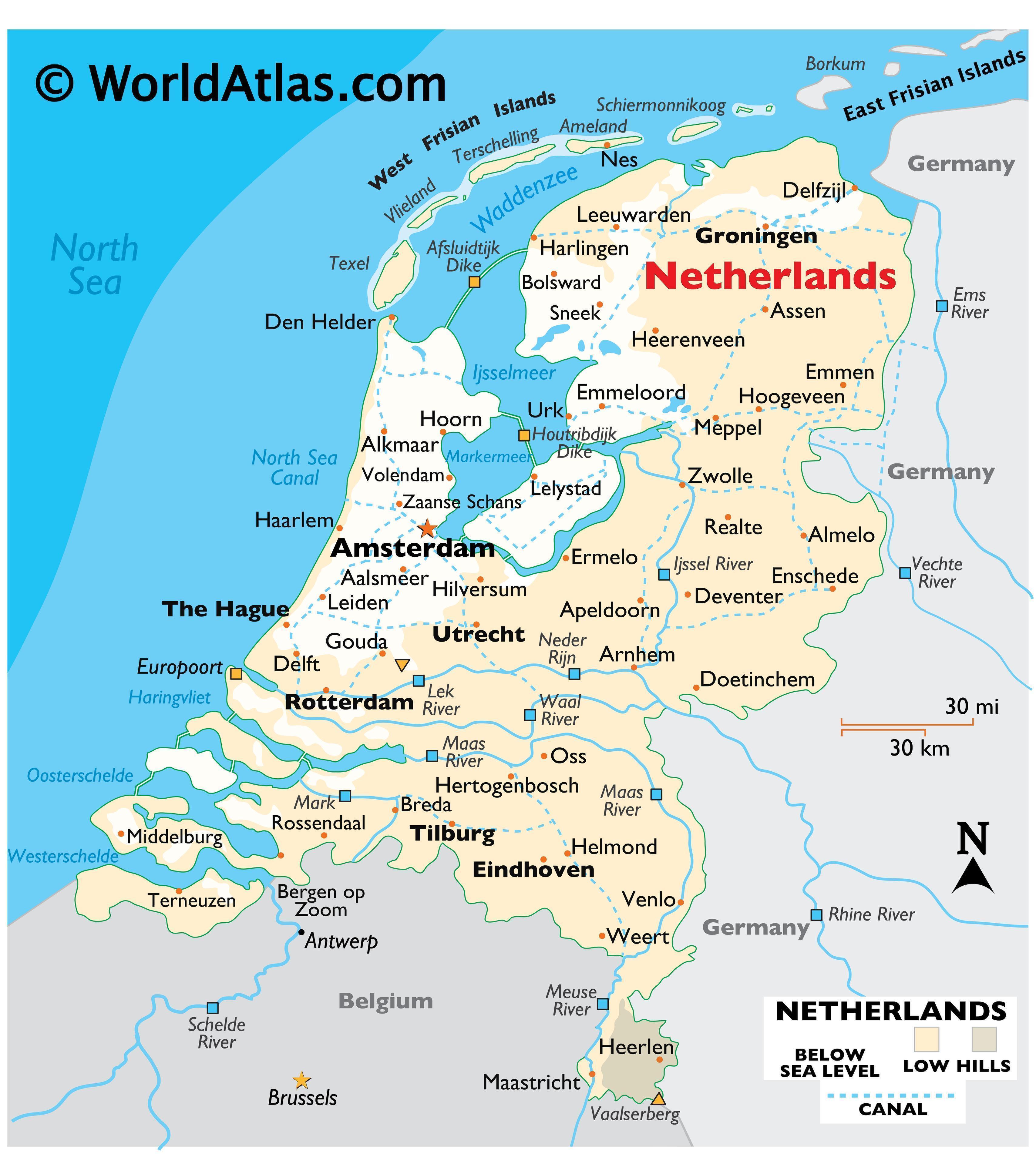 You can click here for more information
on the Netherlands.
Click here for Dutch tourism information.
I will update this page as new information becomes available. If you are on my mailing list, you will be notified of all updates on this trip as well as my domestic offerings. If you would like to be on my mailing list, contact me.
The Boats:
We can take up to 3 boats. I will reserve a boat for each 8 deposits that I receive. You are welcome to request your preferred skipper but I can't guarantee every request will be fulfilled. Your chances will be better the earlier that you make your reservation. We currently have two full boats, each with a skipper and galley manager.
Click Grand Classique to see the layout. The page includes photos, a virtual tour of the boat, and list of features and amenities.
Cost:
The cost of this trip is $1950 per person. The price assumes double occupancy in the cabins and includes the boat, provisioning, an experienced and/or licensed captain, damage waiver insurance, refueling, and limited travel insurance It assumes 8 guests plus your skipper and galley manager for a total of 10 people on board.
The price does not include airfare, meals eaten ashore, personal alcoholic beverages, land-based lodging, individual travel insurance, or other incidentals.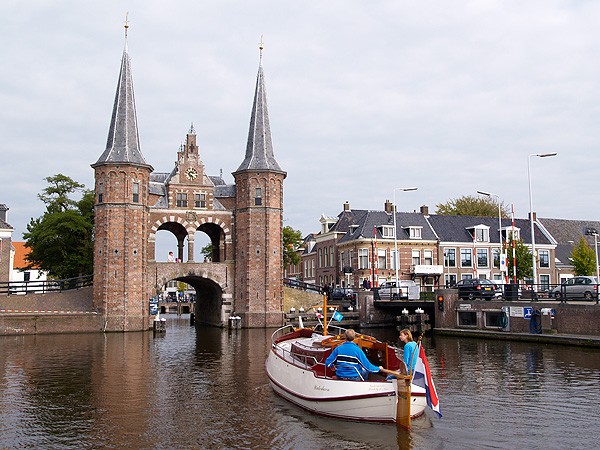 Reservations:
A deposit of at least $750 will reserve your berth or a place on the wait-list. Depending on where we are in the payment schedule, the required minimum first payment may be more than just the deposit. Please read and understand the payment schedule and the cancellation policy below. I need at least 8 committed people to make this trip viable. I will accept no more than 24 reservations for this trip. The cancellation policy published below applies to everyone confirmed on any boat in this flotilla. If you are wait-listed, the cancellation policy does not apply while you are on the wait-list.
Payment Schedule:
Given the trip price and including an initial deposit of $750, there will be a total of six (6) payments spaced approximately 3 months apart. Before sending your deposit, please read and understand the cancellation policy. It is understood that receipt of your deposit means that you understand and agree to the cancellation policy as posted. If you have not yet made a reservation with me, please include with your payment your name, address, preferred telephone number, email address, and an indication of whether you will be traveling with someone else. For information on payment options, click here.
The cost of this trip includes limited individual travel insurance. However, I always recommend that participants consider purchasing their own travel insurance policy. Please see the FAQ question on travel insurance for more information.
Due on or before March 1, 2018
$750
Due on or before June 1, 2018
$240
Due on or before September 1, 2018
$240
Due on or before December 1, 2018
$240
Due on or before March 1, 2019
$240
*** FINAL PAYMENT ***
Due on or before June 1, 2019
$240 or balance due
Please note that if your first payment falls after the due date for the deposit or any subsequent payment, your first payment must be at LEAST in the amount of the total of all payments due up to the date of your payment. For example, if your first payment is made after September 1, 2018, your payment must be at least $1180. This will be the case whether you are a confirmed participant or being placed on the wait list. If you are wait-listed, and you have paid by check, your check will NOT be deposited until you are confirmed. If you have paid by credit or debit card and you are wait-listed, you will be refunded your payment on request OR after the June 1, 2019 if you are not confirmed as a participant before then, whichever comes first. No further payments from wait-listed crew will be necessary until you are confirmed as a participant at which time the balance of the total amount due at that time will be required to reserve your berth.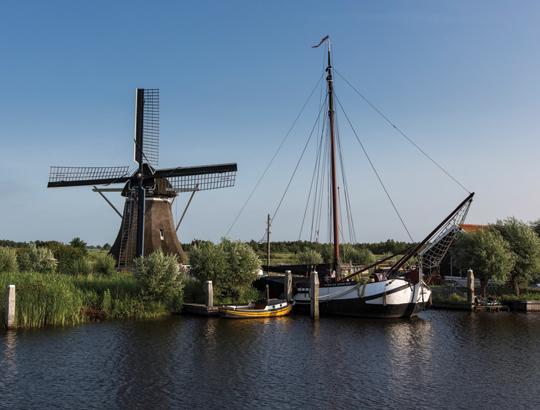 Cancellation Policy:
Charter companies have very strict policies regarding cancellations. There are significant financial penalties for canceling a charter boat. The following cancellation policy is provided to help avoid that situation. In the event you must cancel, please let me know as soon as possible so that I can try to find a replacement or confirm someone from the waiting list, if any. If you are on the wait-list, the cancellation policy does not apply. If I can find no replacement within 2 weeks for someone who must cancel their reservation, the following cancellation fees will be assessed. I STRONGLY recommend that you purchase your own travel insurance to protect your investment in this trip. Check the FAQ section for information on travel insurance underwriters.
Chesapeake Flotillas reserves the right to update this cancellation policy up until the time deposits are accepted.
Any cancellation for any reason will incur at least a $100 administrative fee regardless of the availability of a replacement.

Additionally, if you cancel:

Before 03/01/2018
$100
On or before 06/01/2018
$500
06/02/2018 to 08/31/2018 inclusive
$750
09/01/2018 to 10/31/2018 inclusive
$1000
Anytime after 11/1/2018
All monies paid to date
Payment Options:
You have three options for paying for your trip. I will describe each method below.
Payment Options
Information
Credit or Debit Card Online

This is your best option for getting your reservation or payment in most expeditiously. You may use this link to pay online. My online "store" gives you the options of paying the minimum deposit, paying for the entire trip, or paying for the deposit and some number of the recurring $240 payments. If you wish to reserve after the initial offering, you may wish to call prior to making an online payment to determine if there a wait-list. If so, you may wish to make a payment by check instead so as not to commit funds until necessary.

Even though the online store makes reference to shipping, nothing will be shipped to you. This is how I can collect your contact information. Your commemorative T-Shirts will be delivered at the pre-trip meeting. However, please note that when entering your address, the leftmost field on the city-state-zip line, is actually the ZIP Code field. If you enter your ZIP Code there, the system will automatically populate the city and state fields based on the ZIP code that you provide. If you do not enter the ZIP code as described, you may experience some trouble completing the rest of the form.

My online store is operated by the company I use to process credit card payments. I do NOT keep or in any way save your credit or debit card information. I do keep your contact information for obvious reasons. So please be sure to provide your complete information including email address and phone number.

If you pay for more than one person, use the Notes feature to supply that person's name and contact information, if it is different from your own.

Credit or Debit Card by phone

This is your second best option for getting your reservation or payment quickly. If you call me, I can tell you if there are open berths or if there is a wait-list. If you choose to make a payment, I will enter your credit or debit card information into my terminal. I can tell you immediately if it was approved and you will get a receipt via your choice of email or SMS. I am available by phone generally from 8AM to 9PM. My phone number is 908.672.3609.

Additionally, using this method you can pay any amount you like as long as it is equal to or greater than the minimum amount due at the time of your call. For example, if the minimum payment due is the $500 deposit, you may optionally elect to pay $600 (or some other amount) when paying by phone.

I do NOT keep or in any way save your credit information. I will keep your contact information for obvious reasons. I particularly need your email address and phone number.

Check or Money Order

You may mail your payments as checks or money orders made payable to "Chesapeake Flotillas". Your reservation will be recorded when your check is received. Address the envelope to

Chesapeake Flotillas
487 E Main St
Somerville, NJ 08876-3128

I might suggest using the online store interface to make your deposit and then you can pay the recurring payments by check if you prefer. In this way, you can submit your reservation in the most timely way. &nbsp However, if you make your first payment by check or money order and the trip is full, I will hold your check but not deposit it unless and until you are a confirmed participant on the trip.

When mailing your deposit, please include your full contact information including address, preferred phone number, and an email address. If making payment for more than one person, please include full contact information for each person covered by the payment.

Please note that this will be the only method of payment that can be used to hold a place on the wait list.

For the sake of your own information security, DO NOT mail or email your credit or debit card information to me. If you want to use a credit or debit card, refer to the two sections immediately above.
Flight Information:
You should consider making your airline reservations as early as practical. Economic pressures will make airfares volatile. The flight information below is for those coming out of Northern New Jersey. Direct flights to Amsterdam (Schiphol Airport) are generally available from major international airports Do your due diligence. Be mindful of layover times and arrival times when searching airfares.
We will board the boats in Hindeloopen. Hindeloopen is approximately 75 miles from Schiphol. The trip is about 3 hours by train at a cost of 27 euros. The train station is 2km from the charter base At the end of the trip, we will be in Vinkeveen and closer to Amsterdam, which will be accessible via train or taxi.
Dates

Newark Flight information schedule

Eastbound

United 70 Departing EWR at 5:35pm pm 09/12/2019 arriving AMS at 7:15 am (next day)

Westbound

United 71 Departing AMS at 9:15 AM 09/23/2019 arriving EWR at 11:35 am


The current listed airfare according to United Airlines is $834.00. This flight schedule is provided as an example and for information. Flight schedules and fares may change by the time of your booking.
If you wish to investigate reserving a hotel room or other accommodation during our trip, I recommend using Booking.com. Some of us have used that site to arrange for housing in the past. We have found some lovely accommodations at VERY reasonable rates.
Pre-Trip Meeting
The pre-trip meeting will held online in June of 2019. A recording of the meeting will be made available online after the meeting concludes.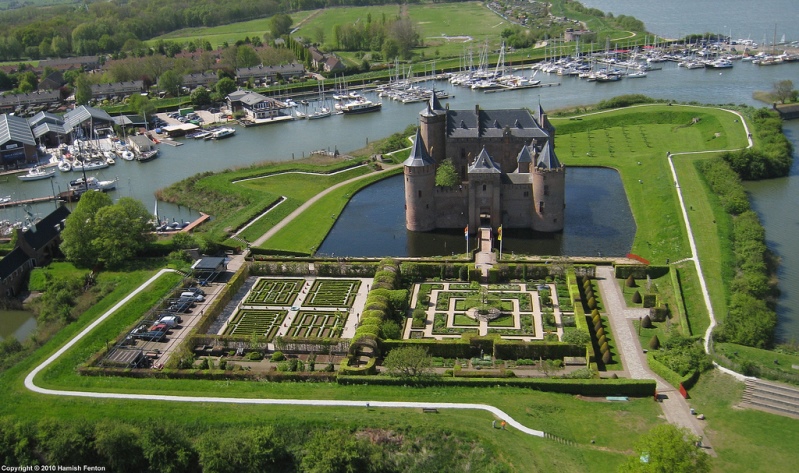 Contact:
Should you have any questions Rob can be reached via email or call him at 908.672.3609.
Many people have requested this trip Come explore Holland with Chesapeake Flotillas.
Click here for information about current sailing opportunities.
---
---

| Chesapeake Flotillas Home | Other Events with Chesapeake Flotillas | About Capt. Rob |

© 2017 Chesapeake Flotillas, LLC



Web design by Rob Chichester
Last modified on: 12/28/2018 7:38:06 PM GMT -5